ABB in the USA - Salt Lake City , Utah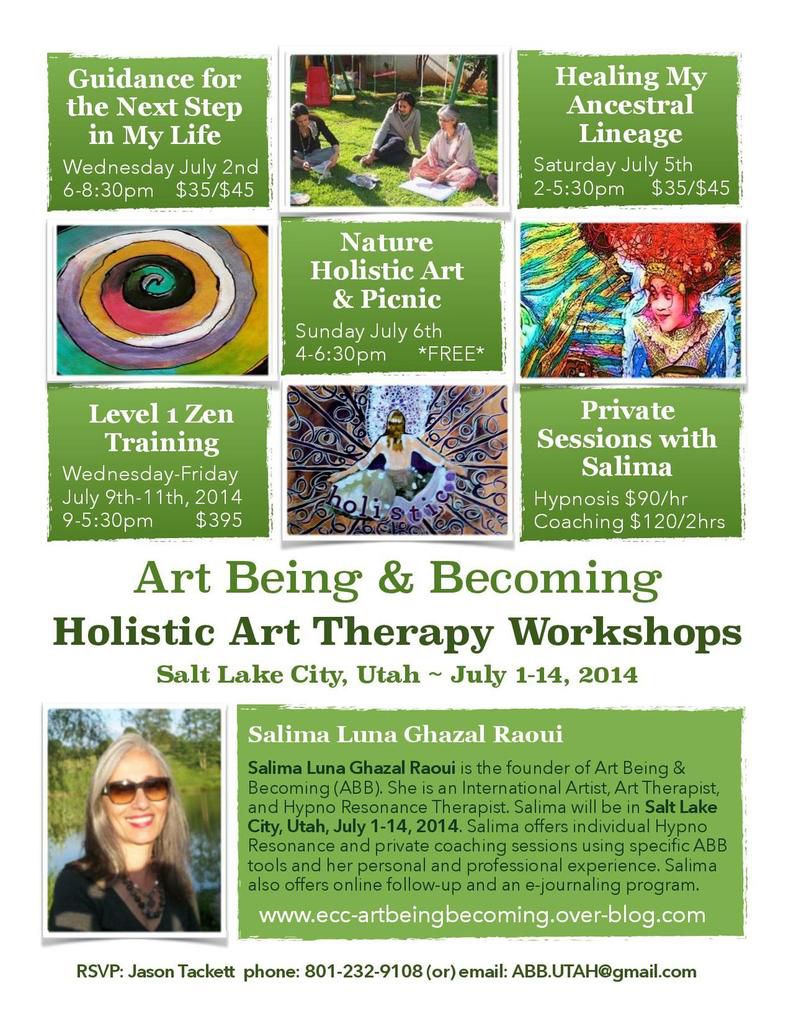 June 13 2014, 22:49
I am extremely happy to soon visit Utah and Salt Lake City, my first time... This will be a wonderful opportunity to share ABB workshops and training programs with many more Friends...None of it would have been possible if it wasn't for my dear SLC friends and ABB supporters, Jason Tackett and Tommy Hamby , who have dedicated their personal time, help and creativity to make it happen! Much gratitude!
I met Jason in Peru in 2011, during a most intense and powerful retreat in the jungle...A true meeting of the souls ...which continued beyond space and time. So I am so looking forward to see him again soon and meet his Beloved Friends in SLC.
With much love and light, here is the program for the entire 14 days I will be visiting. You may share with your beloved community of loved one and Friends likely to be interested and in the area, thank YOU
Wed July 2nd - 6-8:30pm " Guidance for the next step in my life"
Life has been quite a roller coaster lately for most of us, testing our abilities to respond faster to change, and re-invent ourselves in new activities, projects, relationships
It is all expressions of the new paradigm, the new earth and humanity which will need new ideas, new visionnaires creators of new ways of life.
We are all part of the process and it may be difficult and sometimes even painful to face changes with trust, faith that it will be positive and empowering for us and inspiring to others
This workshop topic is a global one, one that many of us are facing right here, right now
Salima will help you contact your Inner Counsel, the guides and archetypes guiding you in time of major transformation
Through ABB tools and Hypno Resonance visualizations, you will dive into your inner wisdom to come back with clear and positive direction for the next step in your life
Sat July 5th - 2-5:30pm "Healing Ancestral Lineage"
We all have received in our personal and collective memory, many informations, stories, emotions, inherited from our ancestors through our DNA

Some informations are conscious but many remain subconscious and may appear in a special gift, talents or negative repetitive pattern
This workshop invite us to explore , transform, heal and celebrate your heritage

Through Yin and Yang archetypes, our family history will help us release some blocks we no longer need to carry on in our life, and make peace with many parts of ourselves which have remained loyal to specific ancestral memory.

With a very special guided visualization, followed by our collage/painting page , we will receive the messages and symbols we need to understand ourselves better

Sometimes healing the past through positive transformation makes room for new and lighter attitude towards life.

Our ancestors lineage once expressed , will no longer remain in the shadow part of our psyche.
Sun July 6th - 4-6:30pm "Nature Holistic Art and Picnic"
Nature is the true healer but we have forgotten how powerful it is to just BE in contact with it and its elements.
We heal through our senses and Nature has a lot to offer in inspiration, contemplation, communion and meditation.
We also heal through heart/body/soul connections and Nature offers that as well
This workshop will invite us to look at and communicate with Nature through many different angles to make the experience more healing and nurturing
Once we open this heart to heart connexion with Nature all our cells will receive new and regenerated vibrations. We will also activate the artist within in us which yearn to be expressed.
Writing from our inner core will reveal more wisdom coming from silence, observation, meditation and deeper awareness.
July 9th - 11th - 9-5:30pm "ABB Level 1 Training Program"
Free time in between will be dedicated to giving workshops to children with Jason Tackett and private individual sessions upon request
To contact ABB-Utah , RSVP or send your questions, please click on the flyers for phone and email informations http://ecc-artbeingbecoming.over-blog.com/2014/06/utah-salt-lake-city-program-july-2014.html
Pour être informé des derniers articles, inscrivez vous :